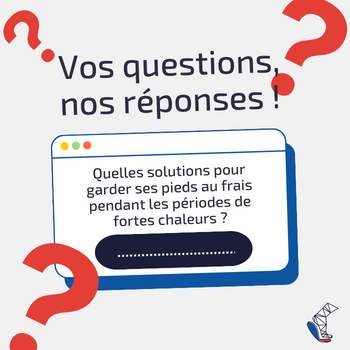 What solutions to keep your feet cool during high heat periods?
Monday, August 28, 2023 at 12:36:00 PM
The summer heat waves that we experience are very traumatic for our body and can lead to certain pathologies. To reduce the discomfort associated with high temperatures and limit the harm that this can cause to the body, it is important to start by keeping the extremities of the body cool, especially the feet. Fortunately, there are many simple and effective solutions to refresh your feet and maintain your well-being throughout the summer season.

Tip 1: The refreshing foot bath
One of the easiest and most effective ways to cool your feet is to take a cool foot bath. Fill a container with fresh water and add a few ice cubes, a few drops of peppermint essential oil for an even more refreshing sensation. Dip your feet in the water and relax for about 10-15 minutes. This will help reduce swelling, soothe hot feelings and revitalize your tired feet.

Tip 2: Breathable shoes
The choice of shoes is essential to keep your feet cool. Opt for shoes made from breathable materials such as cotton, linen or mesh. These materials allow air to circulate around your feet, helping to wick away heat and sweat. Make sure your shoes provide good support and enough room for your feet to breathe.


Tip 3: The homemade refreshing spray
Create your own refreshing foot spray by mixing mineral water with a few drops of peppermint essential oil. Pour the mixture into a spray bottle and store it in the refrigerator. Lightly mist your feet whenever you need an instant boost.

Tip 4: Wet socks
This trick may seem unusual, but it is very effective in cooling your feet quickly. Soak a pair of thin socks in cold water, wring them out lightly and put them on. Wet socks will provide a cool feeling and help regulate the temperature of your feet.

Tip 5: Breathable socks
Choose natural materials for socks: Cotton or bamboo socks are more breathable and absorb moisture better than synthetic materials. They will keep your feet cooler and drier.


Tip 6: Cold compresses
Cold compresses are a quick way to relieve the heat buildup in your feet. Soak a towel in cold water, wring it out lightly, and wrap your feet for a few minutes. You can repeat this method as many times as needed to maintain freshness.

Tip 7: CLIMFEET insoles
Among the innovative solutions to refresh your feet,
CLIMFEET
stands out for its advanced technology
. These soles produce cold on one side and heat on the other without electricity or batteries, simply by recovering the energy of your steps.
You can therefore remain fully active while lowering the temperature of your feet by -3.5° Celsius
. An
effective and ecological solution
to reduce swelling and thus regain the comfort of your feet. Another advantage compared to the tips previously proposed, the duration. Indeed,
the use of CLIMFEET insoles is unlimited as long as you are active, therefore when your feet need to be cooled the most.
When temperatures soar, taking care of your feet and keeping them cool is essential for your overall well-being. Traditional tricks like foot baths and cold compresses are great, but innovative solutions like CLIMFEET open up new possibilities for maximum comfort.